It's been a week since Escape Halloween took over the NOS Events Center for its 12th edition, and like most things Insomniac, the festival just got bigger and better. Featuring mind-blowing production, sick attention-to-detail, immersive Halloween experiences, blistering sets, immaculate vibes, and plenty of space to move and groove to; Insomniac pulled out all the stops for the largest Halloween festival on the continent.
It was our first time back at the NOS Events Center since last year's Countdown and our first Escape since 2019! One of the things that definitely stood out is how wide open and easily accessible everything was. Insomniac has definitely taken steps to make it easier to access all of the vast NOS Events Center where their events take place. At no point at all did I deal with bottlenecks or crowd congestion.
The other thing that, of course, stands out upon entering the Escape festival grounds is just how immersive it is. With the exception of EDC, (the flagship festival) Escape has without a doubt the highest production values, the most performers, the most Easter Eggs to explore for. Escape is simply massive, and, if you ask me, is the best of Insomniac's Southern California festivals. It certainly didn't hurt that the weather was absolutely perfect for the weekend too.
I'm not wrong when I say that this was the biggest Escape to date, they actually added a fifth stage inside the Citrus building, Wicked Woods. Crazy Town, which ostensibly serves as Downtown Escape, is a perfect meeting spot. Its location is easily accessible from all stages, and its landmarks are unmistakable. The fire organ is a sight to behold and always has a performance popping off, it's the perfect place to sit and take in the splendor of the festival grounds. The Crazy Town fountain is also a perfect spot to reunite with your crew and figure out the next move. Oh, and of course, they're all great photo ops too.
As far as the stages go, they were all top notch. The main stage is, of course, The Grimm, a massive cloaked skeleton with its two hands stretched out clutching two spherical stones. Again, outside of EDC, this has to be the best Insomniac stage around. The lasers got major reinforcements and the huge video panels lining the ceiling of the mega-structure helped to create an even more immersive experience. Even if you were seated on the fake grass or at the tables outside of the mega-structure, you still felt like you were immersed in the stage. Sound and video production were A+ this weekend.
The second stage was Feeding Grounds, also inside a mega-structure. This stage's theme was a massive spider web. White canvas adorned the ceiling of the mega structure and instead of a disco ball, there was a massive black widow spider hanging above the stage in its place. The third stage was Sanitarium, a slightly smaller mega-structure, its rectangular video panels would play macabre and disturbing images of a mad surgeon conducting unsound experiments.
The stage that probably got the best treatment of all though was Sewer District, the Factory 93 stage. When I went to Escape in the past this was not a stage I gave much thought to. I figured let the techno snobs hang in the back. Well, techno has now permeated the mainstream and I was keen to check out a set at Sewer District. Insomniac fully leaned into shipping trailers and an underground warehouse type of vibe. The light panels were just right and the sound was pitch perfect. I talked to several headliners who said that Sewer District had some of the best sets of the weekend.
Speaking of the sets, let me tell you about them. Every single DJ absolutely brought it this weekend. Everyone's got to go a little bit deeper, a little bit darker, especially the closers, to match that Halloween vibe, and that's exactly what we got. Friday night really didn't get going until I watched AFROJACK's set at the Grimm. The Dutch legend did not disappoint, dropping a massive set that ignited the crowd. This was the set that truly set the night off as AFROJACK took full advantage of the Grimm's production capabilities.
After that I caught a little hardstyle over at Sanitarium, then headed back to the Grimm for Above & Beyond. Much like AFROJACK's set, the crowd packed in the stage to overflow capacity. Jono & Paavo threw down a captivating set that had the crowd enraptured. Above & Beyond always strives for "moments like these" and they certainly achieved it at Escape.
After A&B, I headed over to Feeding Grounds, which was hosted by Bassrush for the night, to have my face just melted off. ATLiens were well into their set of wonky dubstep, rap mashups and trap beats. It's always nice to see the different vibes at different stages, but aside from the Grimm, the Basscon stage was bringing better vibes than the Bassrush stage. Zomboy followed up ATLiens and also proceeded to ignite the crowd.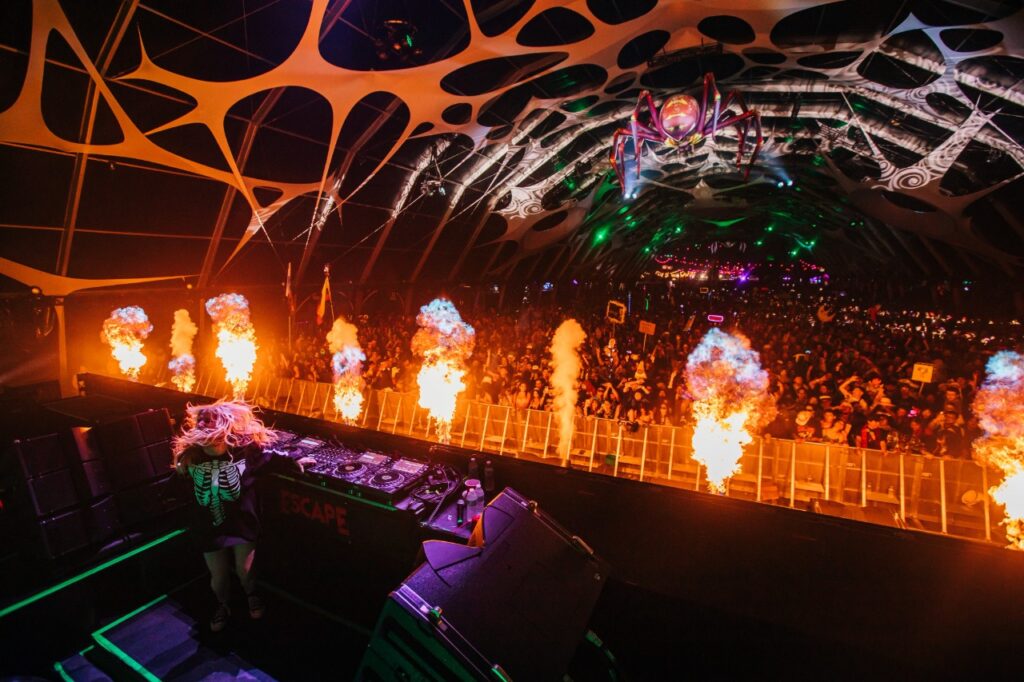 I proceeded back over to the Grimm, but I made a quick stop at the new stage, Wicked Woods. I'm always a sucker for an indoor stage, and Insomniac made the most of the space they were given. Setting up a mini forest behind the DJ booth as well as a circular video board, Wicked Woods was a huge come up if you happened upon it. Not too crowded, but still stellar production. I watched a little bit of K?d's Throwback Set and I wish I had caught more.
Finally back to the Grimm, Kaskade closed the night with an incredible set that saw him lean into the REDUX sound and turn the Escape mainstage into an underground club. The lasers and stage production could not have been more on point.
We got there nice and early on Sunday. As I mentioned before I started things out at Sewer District and caught Charles D. Despite the early time slot and smaller crowd, the vibes were on point for Sewer District. I was now prepared for techno on Halloween weekend. I flitted between stages and sets checking out TOBEHONEST at Sanitarium, Ship Wrek at the Grimm, who drew a massive and rowdy crowd for such an early time slot, and Rossy at Feeding Grounds, who killed it with her blend of bass house and trap.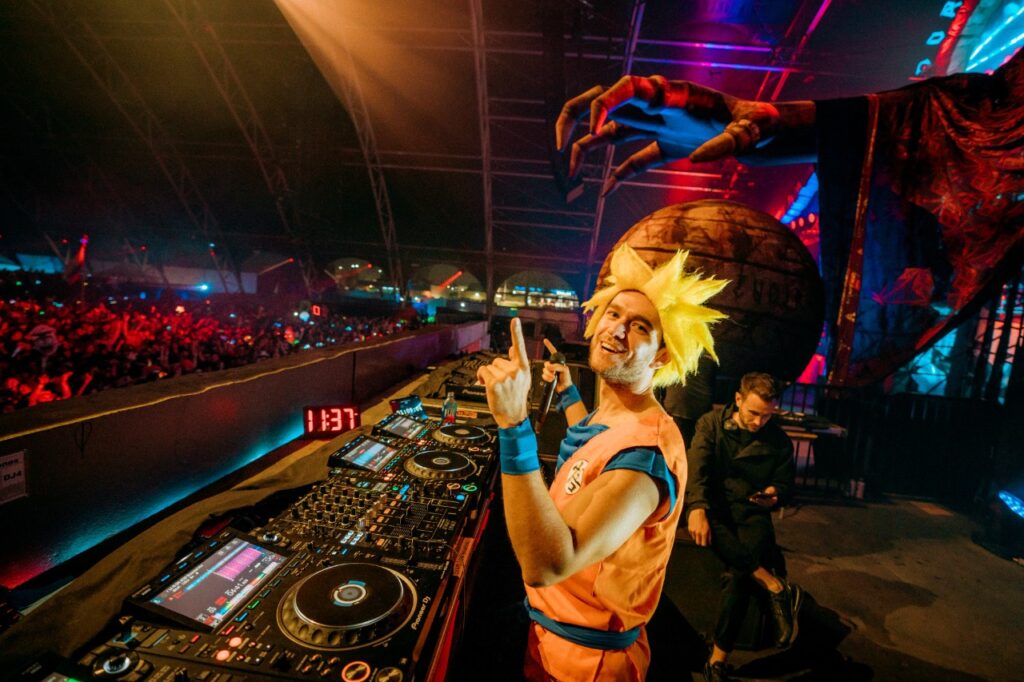 After that, it was back to the Grimm for Matroda's massive house set. Along with the permeation of techno into the mainstream, the re-eruption of house music has to be noted too. My god, people absolutely love house music. I didn't recognize a single song Matroda dropped, but it was still a dope set and the vibes were unmatched. Tchami came on next and dropped a set for the ages. Opening with the AC Slater x Chris Lorenzo (Fly With Us) track "Seismic", Tchami's mix of French house was absolutely perfect. The lasers and pyro also started taking over.
DJ Snake took the stage next and turned the Grimm into an absolute trap house. The beats were coming hard and fast with DJ Snake, and the packed crowd was more than ready for all of his hits. "Southside", "Trust Nobody", "Lean On" and he even dropped Knock2's "dashstar". A memorable set indeed.
Zedd was up next and he thrilled the crowd by opening with his "Where You Are" remix. The packed out crowd was chanting along with the lyrics. Zedd was also one of the few DJs to dress up for Halloween as he sported a Super Saiyan outfit (from Dragonball Z). Zedd dropped a masterful set consisting of his hits like "I Want You to Know" and "Stay the Night" on top of his energetic live edits and some EDM classics like Eric Prydz's "Call on Me".
Finally, Armin van Buuren closed out the weekend. Armin perfectly blended trance and techno for the best Halloween set imaginable. Armin maintained his signature sound while seamlessly blending in some dark techno beats that were perfect for the spooky season.
It was an absolute joy to be back at Escape after three full years away, the longest drought we've had between Insomniac festivals. The Pandemic denied headliners festivals in 2020. I didn't get to Escape in 2021 because there was the Fall Edition of EDC a week before. I could have gone in 2022, but I didn't. I'm elated to have made it back in 2023. Although no announcement has been made, I would expect Escape to return for its spookiest 13th edition next year.