Earlier this month, Insomniac put on the 28th edition of Nocturnal Wonderland, North America's longest running rave. I was lucky enough to attend once again this year, and like a Swiss train, Nocturnal just consistently delivers. Whether it's the immaculate vibes that cannot be matched by any other Insomniac fest, the always stacked lineup, the familiar venue and setup, or the Cosmic Equinox itself; Nocturnal retains its uniqueness and charm. I don't think there's any other festival where you have a confluence of people raving for their first time and OGs who have been there since the early days.
Once again taking place at the pristine Glen Helen Regional Park in hills north of San Bernardino, this year's edition of Nocturnal featured absolutely perfect weather. Just because the equinox is on the calendar doesn't mean that the Southern California summer is over. This year, though, headliners were treated to pleasant fall-like weather, with temperatures never exceeding 80 degrees. In fact, it was downright cloudy on Saturday.
As I mentioned, the Nocturnal festival grounds are very familiar to anyone who's ever been, and with only three official stages, it's supremely easy to navigate. For non-campers, they walked up the hill to the Glen Helen Pavilion entrance, you walk up the ramp decorated by blacklight painted ferns and you either walk up the hill to the Labyrinth stage, which was headlined by Bassrush all weekend long, or you walked (stumbled) down the hill to Sunken Garden and Wolves' Den.
While the stages at Nocturnal usually retain most of their form from the previous year, unlike EDC, there were some notable differences at the main stage. While it retained the massive circle video panel in the middle of the stage. The top of the stage was adorned in neon colored flowers that bloomed over the course of the nights. The Nocturnal Wonderland logo was front and center while the top border of the stage featured blacklight painted wood panels. The lasers and pyro only got bigger from last year.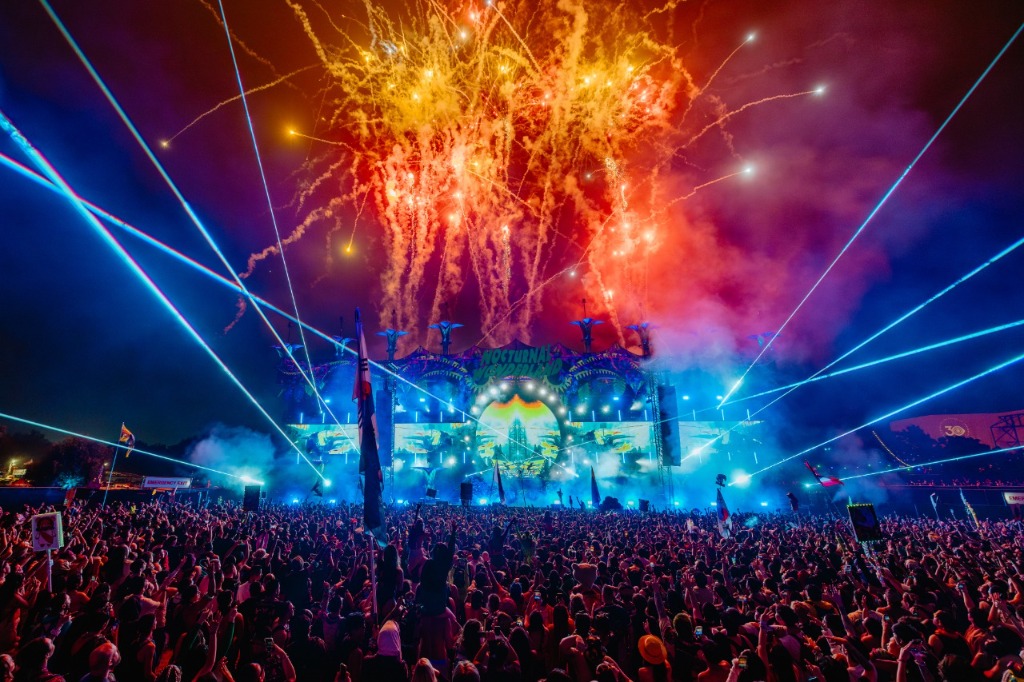 The Labyrinth stage also had some new features. While the stage maintained the same design, it dispensed with the multiple smaller TV-like video panels for a single long diagonal video panel on each side leading to the tall vertical video panel. Again, lasers and pyro were on point at the stage. My only criticism is that the volume was significantly lower at Labyrinth than at the main stage. Sunken Garden was pushed back a little to allow for more foot traffic (good move) and appeared to be the same as last year.
Every single set was amazing this weekend. As for my experience, we walked into the venue on Saturday as Joel Corry was throwing down a nice set of house and techno. We made our way up the hill for our much needed dose of drum & bass from UK legend Dimension. After a little bit we made our way down the hill for the absolute house party that NITTI b2b Marten Horger were throwing down. After that, Jason Ross was a major highlight of the first day, from trance to techno, Ross showed that he can do it all. We enjoyed the sights and sounds of the Sunken Garden as VNNSA threw down before we made our way back to Wolves' Den for AC Slater's banging house set, and an immaculate set from Seven Lions where he threw down both his hits and some wild psy-trance. Finally we ended Night one atop the hill with Black Tiger Sex Machine, the duo threw down an insane set that featured heavy dubstep as well as some more melodic tunes to balance it out.
We got in a tad later on Sunday (happens to the best of us on the final day), but we made it in time to see some of Pendulum's set before the absolute highlight of the weekend; Benny Bennasi's Sunset set. The dance music legend weaved through some deep and clubby tracks before closing his set out with some of his biggest and most beloved hits. He closed his set out with Skrillex's iconic remix of Benassi's hit song Cinema. The lasers and production of the stage helped to deliver an unforgettable moment for everyone there. For me, this was an iconic moment; a dance music icon delivering an indelible moment in an iconic space.
From there we moved up the hill and bass was the formula for the rest of the night. I was in awe of PhaseOne's performance, and Eptic delivered an incredible set for all the headliners who were thoroughly enjoying his performance. We stayed atop the hill for GHOSTRYDR (JOYRYDE b2b Ghastly) and enjoyed the old school rave vibes. By that time, everyone had gone down to the Wolves' Den for Subtronics, so old school ravers were rewarded for their patience.
There you have it for another successful edition of Nocturnal. I haven't seen anything yet confirming next year, but I'd be surprised if Nocturnal didn't return for its 29th edition at Glen Helen Regional Park. Also, Premier Parking came in clutch, you got dropped off at the camping entrance, and did not have to wait in traffic for an hour to leave the venue. 10/10 recommend. This year's Nocturnal was pitch perfect, and we can't wait to return next year.